Hestasport riding tours
Simply more fun
If you are looking for a unique Icelandic riding experience or scenic and well-equipped place to stay and enjoy the best of the Skagafjörður region, you have come to the right place!
We offer a wide variety of tours to suit anyone, from first-time riders to fanatical horse enthusiasts, with the opportunity to stay in our beautiful cottages, with magnificent views overlooking the vast plains and mountains of the Skagafjörður valley.
We offer short riding tours from one hour up to day tours, and we also have long tours taking you into the Icelandic highlands. If you prefer not to ride and just wish to view the area, then you are still welcome in our cottages, of course, and we will assist you to plan a selection of tours to enjoy the vast range of activities that the area has to offer.
Small groups – personal service
Our short riding tours in the Skagafjörður area are ideal to get a first impression of the Icelandic horse. Meet this wonderful 5-gaited breed, try out its speciality, the tölt, and be inspired by its well-balanced character, compliance, strength and endurance!
Whether you are a first-time rider, a fanatical horse enthusiast or anything in between, we'll either have the right tour for you in our programme or create a customised experience suited to your individual needs and wishes. We offer short riding tours from one hour up to day tours. With experienced guides at your side, you might be crossing rivers, climbing up and down steep mountains, tölting over smooth fields or visit the scenic waterfall "Reykjafoss". There is no better way to explore the beautiful landscape of Skagafjörður than on horseback.
For bookings at short notice (departure in under one hour) please call us at (+354) 4538383.
If you are also looking for accommodation, we'll be happy to book you into one of our cosy cottages overlooking the magnificent plains and mountains of the Skagafjörður valley.
All Year Around!
Viking Ride
On this exceptional every-season tour, you'll enjoy the diversity of the Icelandic landscape. Our reliable and strong horses will carry you directly into nature's tranquility and won't mind frozen ground or scrunching snow as well as the soft grassy path in the summer.
Availability: All year around
Duration: 1 – 1,5 hours
Price: 11.500 ISK
Chasing Waterfalls
Our New Tour
Come with us on our new 30-minutes tour to one of the natural highlights in Skagafjörður and bring home unforgettable memories. A perfect trip for a quick pit stop to enjoy riding on our beloved Icelandic horses!
Availability: All year around on request
Duration: 30 minutes
Price: 8.000 ISK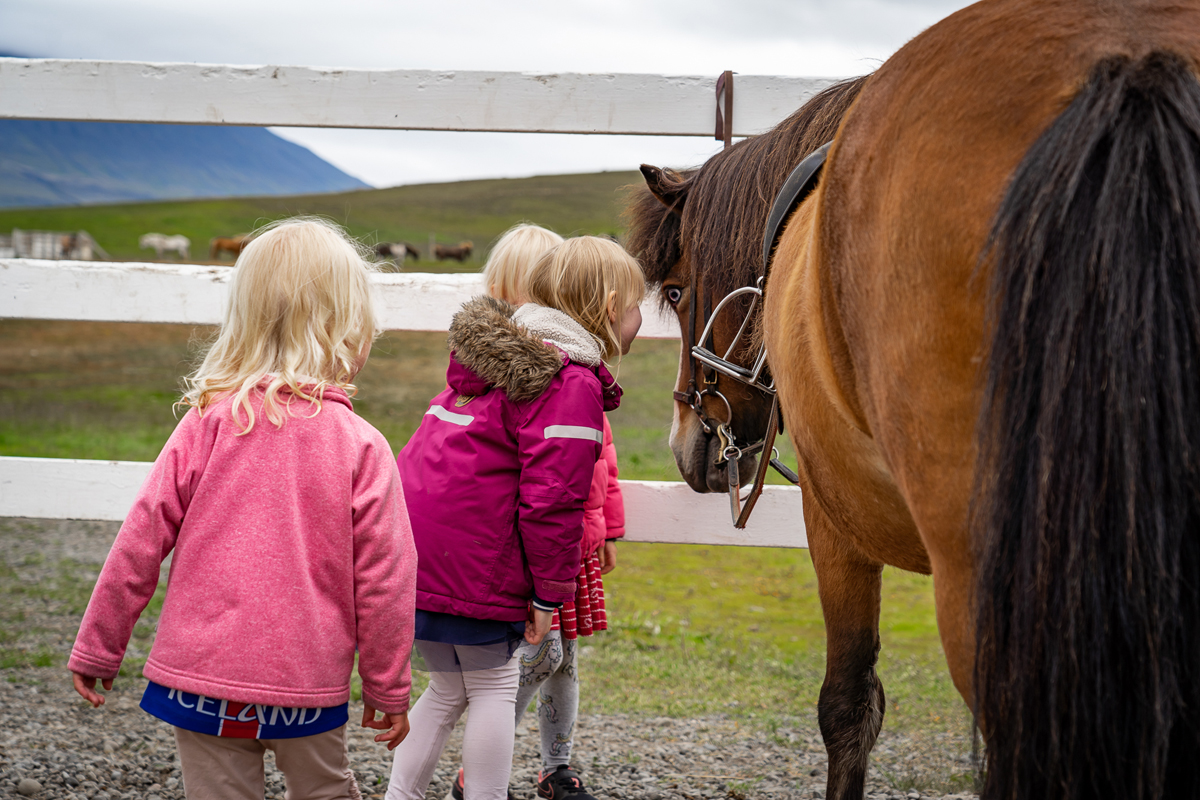 Date the Icelandic Horse
Our New Experience
Not a candle light dinner, but a close encounter with the Stars of Iceland. Have a VIP-Meeting in this private experience with one of our horses without the rush of a riding tour. Excellent for young children.
Availability: All year around on request
Duration: 45 minutes
Price: 10.000 ISK
Riding Lesson
From Zero to Hero
If you want to start from scratch or you want to improve your riding skills, with this experience you are spot on.
Availability: 15th May- 15th-October on request
Duration: 1 1/2 hours (30- 45 minutes riding)
Price: 12.000 ISK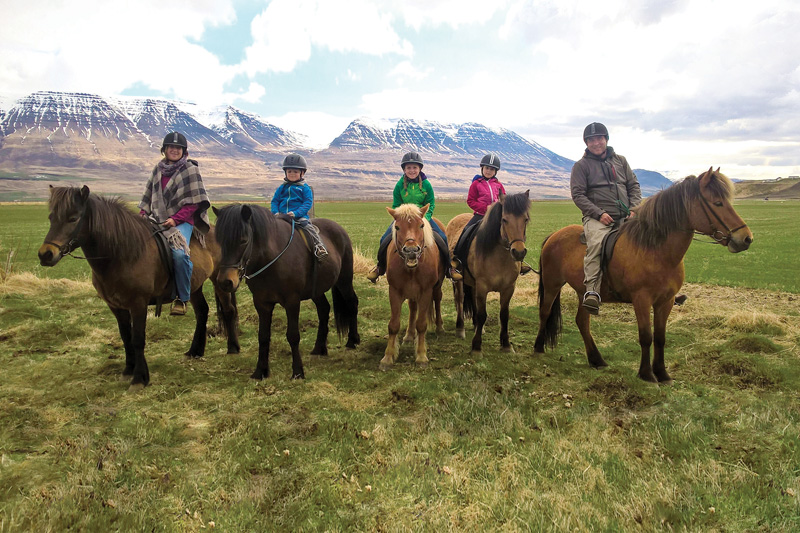 PLEASURE IN EVERY HOOFSTEP
The ideal tour for your first experience with the Icelandic horse! Enjoy a break on your journey to Iceland when discovering Skagafjörður, a mythical region for Icelandic horses.
Availability: April – October
Duration: 1 hour
Price: 9.000 ISK
RIVER DELTA
After a short ride on countryside tracks, we will arrive at the amazing waterfall "Reykjafoss".  You will soon understand why Icelanders describe it as "the steaming falls"! Later on, you will be having fun crossing quite a few rivers on your trusted companion, the Icelandic horse.
Availability: April – October
Duration: 3 hours
Price: 16.500 ISK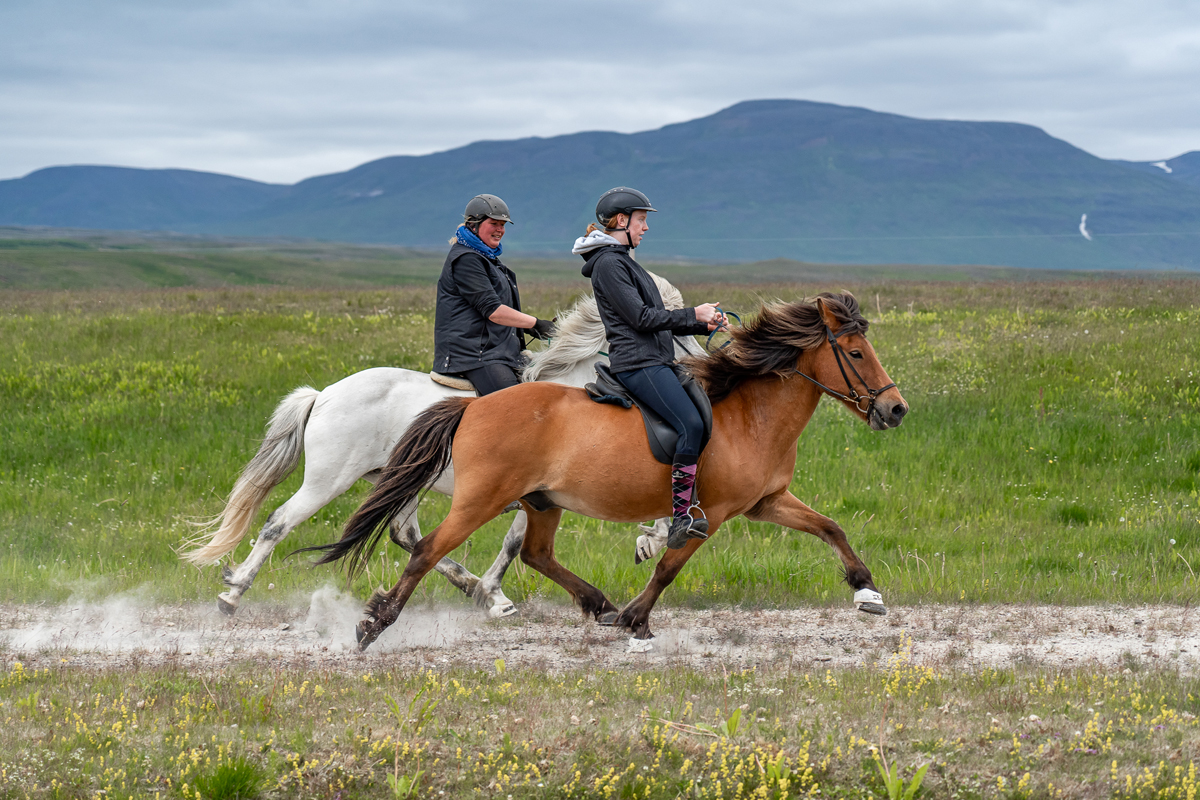 Give me 5!
The Icelandic Horse is the only horse breed in the world that has these 5 different gaits. If you are an experienced rider or even a real expert, come to us and let our amazing horses cast a spell on you! This is a private tour for experienced riders.
Availability: May – October
Duration: 2 – 3 hours
Price: 28.000 ISK
RIDE AND RAFT
1 1/2-hour riding tour plus 3-hour rafting. Usually, the day starts with the riding tour in the morning and in the afternoon, you will go rafting. This tour does not require previous riding or rafting experience and is suitable for everyone. 
Availability: May – September
Duration: Daytour
Price: 26.590 ISK
Have you tried riding through the highlands with a herd of horses? Have you ever climbed mountains with a hand horse? If you are a horse enthusiast, you haven't truly experienced the full potential of the Icelandic horse, if you haven't gone on a multi-day tour.
We can help you fulfil your dreams.
We offer a variety of long riding tours through highlands, mountains and the outback of Skagafjörður of varying difficulty and length. Our tours are 3-7 riding days long and range from suitable for intermediate riders to physically challenging tours for experienced and fit riders. In addition, we are happy to organise your own, tailor-made tour.
Our experienced local guides will take you through breathtaking nature that cannot be accessed other than on horseback or on foot.
HOME AT HESTASPORT
If you want to relax surrounded by beautiful nature, do plenty of horseback riding adjusted to your skills, and discover the diversity of the fjord Skagafjörður, Home at Hestasport is the right choice.
Availability: May to mid-October
Duration: 5 days / 4 nights
Daily rides: 5 – 15 km
MOUNTAIN CHALLENGE
For three days, you will be exploring beautiful forgotten trails in the outback of Skagafjörður. Just like Icelanders, we ride with accompanying hand horse and climb up and down narrow valleys and canyons, cross a river countless times and enjoy smooth tölt on grassy paths.
Availability: July – September
Duration: 4 days / 3 nights
Daily rides: 12 – 35 km
Breath of the Highlands
This vibrant riding tour with a herd of free-running horses commences in the beautiful Skagafjörður. We will embark on a trail leading through the wilderness of the Icelandic highlands.
Availability: July
Duration: 7 days / 6 nights
Daily rides: 25 – 30 km
WILDERNESS EXPEDITION
If you are looking for a real horse-adventure in the Icelandic wilderness and prefer untouched nature over luxury, this is your tour! In true Icelandic style, you will be driving a free running herd of horses through vast grasslands and a moonlike landscape towards the glacier. 
Availability: August
Duration: 8 days / 7 nights
Daily rides: 25 – 40 km
SHEEP ROUNDUP
2Take part in the farmers' work and enjoy this traditional festival of Icelandic culture. We'll ride into the highlands with a hand horse in search of the sheep that have been running free in the mountains all summer. They have to be brought down safely to the farms before the harsh Icelandic winter takes hold. 
Availability: September
Duration: 3 days / 2 nights
Daily rides: 20 – 40 km
Game of Horses
Leading horses into the highlands and abandoned valleys for the summer is an old Icelandic tradition. In September the farmers collect their livestock. You will experience a truly unique atmosphere when following hundreds of horses towards the corral and watching how the farmers try to find their horses again
Availability: September
Duration: 3 days / 2 nights
Minimum age: 14 years
Accommodation
Hestasport Cottages
With magnificent views overlooking the vast plains and distant mountains of the Skagafjörður valley, our seven charming timber cottages are the ideal place to spend your days off all year round. Experience the serenity of Northern Iceland and fill your days with the endless possibilities for adventure that Skagafjörður has to offer.
The cottages range in size from studio-style bungalows (2-4 people) to spacious multi-room retreats. They are nestled together up on the hill only a short walking distance from the centre of Varmahlíð. From the hot tub at the centre of the well-maintained cottage site, you can enjoy the golden light of the midnight sun or watch the northern lights.
What our guests say about us
Wonderful riding with beautiful scenery
We did the 2 hour Country Life ride. It wasn't difficult for us novice riders and we even did several tolt sequences! It was bumpy but fun. Our horses were the best, most gentle animals. We were outfitted with helmets and given a quick tutorial on how to handle our horses. The guides were great and made sure we were ready for some tolt. The path was beautiful, crossing a stream and walking alongside a small river. Lovely experience!
100% recommended!
Wonderful ride with our tour guide Anika! She was a joy to ride with. Absolutely stunning scenery, friendly and knowledgeable guide, and beautiful Icelandic horses.
Lovely people, beautiful horses and amazing winter views!
Felt very much welcomed at the office, beautiful horses, our guide (Reese – hope I get your name right!) was very helpful and friendly, calmly brought us around the area in a 2 hrs ride. Beautiful sceneries, breathtaking waterfall view on a horse! 
I'm glad we opted for Hestasport, no regret! Much recommended!
Brilliant experience!
This was a great way to experience Iceland. I'm an experienced rider but my partner had never ridden before; we were both able to enjoy galloping and tölting on the gorgeous Iceland horses in the dramatic mountain landscape. Our guide (from Hungary) was a great teacher, relaxed, fun & had loads of great stories about Iceland. Highly recommend this experience!
At Hestasport, we are proud of our international team. We welcome you all year round and are happy to help you throughout your stay at the Hestasport Cottages. At the stables, our experienced guides will show you the wonderful landscapes of Iceland with their favourite companions, the Icelandic horses.
How to find us?
You will find us in Varmahlíð, Skagafjörður. In Varmahlíð, you turn off Ringroad no.1 onto road no. 752. When you are on road no. 752, our office is the first building on the left (150 m from the junction). It's a white and blue painted building. 
The GPS coordinates are: N 65°32,744′  W 19°26,338′.
| Title | Address | Description |
| --- | --- | --- |
| | Skagafjarđarvegur, Iceland, Iceland | |
Kennitala: 5005942769
VSK: 
94859